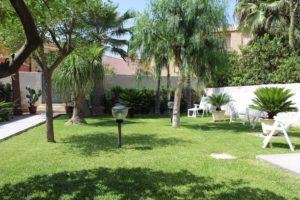 Le vacanze trascorse dalla nostra famiglia ad Avola presso la casa Marte sono state stupende in tutti i sensi!A partire dall'appartamento estremamente confortevole, pulito (biancheria sterilizzata e fornitaci direttamente nei sacchetti della lavanderia…..neanche negli alberghi succede!),più che ampio e fresco, fino alla gentilezza e alla simpatia di Pino che è sempre disponibile per qualunque informazione o esigenza anche dell\'ultimo momento.Ma la casa è anche dotata di uno stupendo giardino curatissimo e silenzioso, con sdraio e lettini per il relax, e di una veranda personale per fare colazioni, pranzi e cene all'aperto.
La posizione della casa è ottimale anche per raggiungere a piedi il lungomare con le spiagge o il fantastico centro storico di Avola con le sue piazzette e gelaterie!Una zona della Sicilia infinitamente bella e tutta da scoprire per le ricchezze architettoniche, i paesi e le città di antica tradizione, l'ambiente naturale di litorali e riserve, ma anche per la gastronomia ricca e prelibatissima e per il calore delle persone, di sicuro unico al mondo….!Il minimo è stato andarsene coi lacrimoni agli occhi! Arrivederci Sicilia!!!!
Mele Claudia
Montecassiano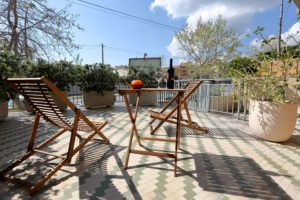 We stayed in the house for 10 days with a baby. The house has everything you need: A big bedroom with A/C, a small living room, clean bathroom and a fully equipped kitchen.As a nice bonus, there is a big garden, which is well maintained. We enjoyed the evenings outside! The closest supermarket and a fish store are 5 minutes away.
The beach in Avola is 15-20 minutes walking distance away (with a pushchair), but there are also several nice beaches around Avola, which you can easily reach by car.
Also there are lots of things to see around, so a car is a must. Pino, the host, was very nice and helpful! Overall, we enjoyed the house and would definitely recommend it!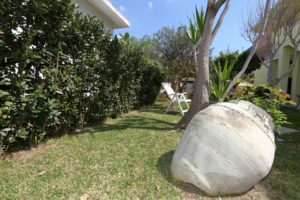 We had a very pleasant stay for two weeks in this apartment. Pino opened the doors even though it was 4.30 am, arriving from Catania airport (beware from renting a Budget car, take another company).
The apartment has two very spacious bedrooms with each a double bed (one very soft) and a single bed, and Pino put us a baby bed into one of them.
We went there with two small kids (1 and 3 y.), which is always a bit stressful, but the large enclosed garden we had access to made it possible to stay home and eat and let the children play without being afraid of dangers.
The apartment is well equipped, the kitchen and bathroom are big.
There is a laundry machine, and we really had nothing to complain about. The location of the apartment is good.
It is in mid distance from the city center and the beach, at a relatively lively street with a great coffee bar close by and another place where you can get take-away pasta.
Do not expect to do too much by walking when it is hot.We tried to but started using the car very often in the end. We found that Avola is a good base for vacation with our kids, because there was enough to do within a half-hour radius.We often went on half-day trips (Siracusa several times, Noto, Modica, Vendicari, Marzamemi), came back for a sleep and then went to one of the very nice beaches along the coast between Avola and Marzamemi. We really enjoyed our stay at this apartment, and Pino was a welcoming and nice host.
Simon
Switzerland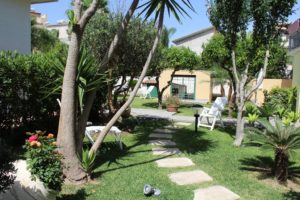 Abbiamo soggiornato ad avola nella casa vacanze Marte in agosto, periodo di maggior affluenza. Siamo stati benissimo: ospitalità calda ma riservata, la casa ha veramente tutto quello che viene detto in pubblicità.
Ben esposta tanto da non dover accendere l' aria condizionata.Ordine e pulizia nell'appartamento assegnatoci. Mare stupendo e nel giro di pochi chilometri tantissime calette da vedere assolutamente.
Cultura arte e buon vino a profusione. Vacanza non solo consigliatissima anche con i bambini ma assolutamente da ripetere.
Michenzi Alessandro
Roma